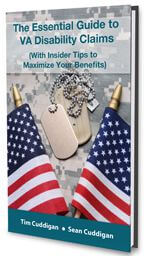 Did you know that about 75% of initial claims for disability benefits are denied by the Department of Veterans Affairs? If you're disabled and unable to work, you can't afford to risk submitting an incorrectly prepared or incomplete application. It typically takes about one year to receive a determination from the VA, but if you're denied and have to file an appeal, that process takes even longer. Do everything you can to help your claim succeed the first time: download your free copy of The Essential Guide to VA Disability Claims (With Insider Tips to Maximize Your Benefits) today!
Gain Valuable Knowledge About the Veterans Disability Claims Process in This Free Book
In this free guide, experienced disability attorneys, Tim and Sean Cuddigan, walk you through everything you need to know about applying for disability benefits through the VA, including:
Basic qualification requirements,
Common qualifying disabilities,
How the claims process works,
How to file a claim,
What to do if you're denied,
And more!
Knowing all you can about the disability claims process for Veterans is the first step to building a successful claim, and there's no better way to learn than by downloading your free copy of The Essential Guide to VA Disability Claims today. We serve Veterans nationwide. Simply fill out the form and download!